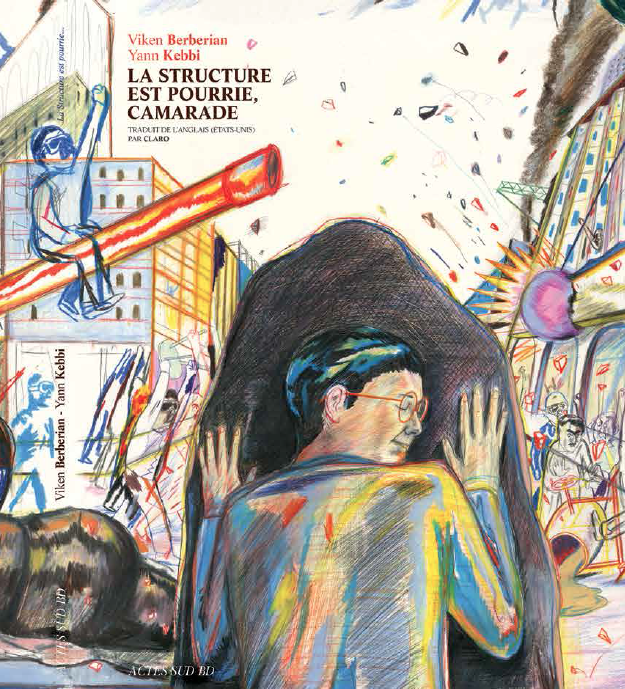 Who is Frunzik? Some would say he's the son of Marianne and Sergei, an unassuming boy discovering Paris from inside his stroller along the Seine. As his parents separate, little Frunz turns inward, then to his Lego blocs for sustenance. He may look harmless and lacking in courage, but don't be fooled, Little Frunz is a disaster waiting to happen.
As he overcomes his family travails, Frunzik grows up to become an architect and decides to leave Paris. He first heads to Moscow, then to Yerevan, where as a university professor, he lectures his students about the principles of good design – and his unremitting love of cement.
Meanwhile, Yerevan is in the middle of a building boom. Wrecking balls swing through the city; cranes punctuate its skyline and cement trucks race through its narrow streets. Its denizens live in slums, outraged at the destruction of the historic city. Most of them have lost their homes to an ominous plan to reinvent the Soviet city.
Yerevan is also a city on the verge of revolution as residents are flushed out of their homes with tragic results. Yet Frunzik's father forges ahead with his urban plan to rebuild the city anew – a city without memory or history.
The Structure is Rotten, Comrade is the collaborative work of Viken Berberian and Yann Kebbi. Forthcoming by Actes Sud (2017) across Canada, Switzerland and France.
Yann's illustrations have appeared in the New Yorker, the New York Times, the Guardian, Télérama, Revue XXI, Suddeutsche Zeitung Magazin, Condé Nast, Le Monde and La Repubblica.
Viken's work has appeared in the New York Times, the Los Angeles Times, the International Herald Tribune, The Believer and Le Monde Diplomatique. Viken is the author of the novels, The Cyclist (Simon & Schuster) and Das Kapital: a novel of love & money markets (Simon & Schuster).
Critical Praise:
"The Structure is Rotten, Comrade is a painfully beautiful book, throwing in our face some of the saddest human truths." – Etgar Keret
"The Structure is Rotten, Comrade – an original collaboration between Berberian and Kebbi – describes an unconventional coming-of-age. Frunzik Zakoyan is an outspoken guide to the architectural and political culture of Yerevan, Armenia, via Paris and Moscow. In perfect concert, Kebbi's vivid drawings are a hybrid of propaganda posters and David Hockney. Frunzik's love of cement is contagious." – Leanne Shapton, winner of the National Book Critics Circle Award for Swimming Studies
"Bike crashes, arguments and bustling crowds are just some of the slightly off-kilter subjects in this unbelievably amazing and varied portfolio from Yann Kebbi." – Liv Siddall, It's Nice That
"A potent tale of love and terror. Viken Berberian's audacious debut set the standard for the post-war novel."- Kaelen Wilson-Goldie, Monocle
"Berberian takes us into fresh and disturbing territory," The Toronto Sun
"Un chef-d'oeuvre" – Arnaud Viviant, review of Das Kapital, Radio France Inter
"An inventive and oddly disturbing novel. In Das Kapital, he probes the global lunacy wrought by 9/11 and the multifaceted nature of corporate culture. His satire soars." – Michael Leon, The San Francisco Chronicle
"Deeply creepy and funny and perfectly timed." – Kirkus
"In his stunning debut novel… Berberian heaps on profound and frequently witty insight into often unexplored territory." Liza Weisstuck, The Boston Globe
"One of the most original American novels of the year. Berberian is a brash stylist whose lyrical, fragmented writing makes the book an electric read." – Tirdad Derakhshani, The Philadelphia Inquirer
"The juxtaposition of finance jargon and poetic language was pioneered by Viken Berberian's Das Kapital: A Novel of Love and Money Markets, which is doubly impressive in its ability to predict the financial crisis (the book appeared in 2007) and its insight, deeper than Wayne's, into why Karl Marx's Das Kapital is especially useful as a shorthand for the entwinement of finance, social relations, and globalization." – Georgiana Batina, Writing Energy Security After 9/11: Oil, Narrative and Globalization
"A rebours des clichés, il pénetre l'esprit fracturé d'un terroriste issue d'une famille d'artistes," – Elisabeth Philippe, Les Inrockuptibles
"Brilliant." – Gayatri Chakravorty Spivak, Columbia University, Boundaries
"Irreverent, hilarious, uncompromising." – Jorge Luis Borges, posthumously
Contact: fiction@vikenberberian.com
Represented by the Astier-Pécher Literary & Film Agency, 5 Rue Cavé, Paris / France contact@pierreastier.com